Chocolate Catering Long Beach, CA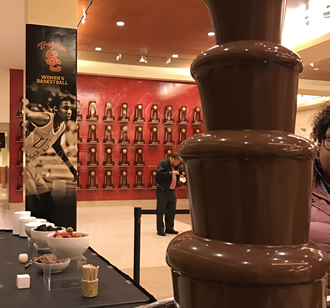 Do you want to make your party or event more interesting and exciting? Are you looking for other great options or add-ons to your traditional menu? Don't look far since we have the right answers to your concerns. At Chocolate Fountain Pros, we help clients create unique party setup and successful events by providing professional chocolate catering services. We've been in this business for years, so we have the experience and all the resources needed to provide clients with top quality catering services. Our company's long list of satisfied clients comes from Long Beach, Los Angeles, and Newport Beach areas. 
If you also need a reliable chocolate catering service provider, please contact us today at (310) 344-1721. Our friendly personnel will assist you in all your needs and concerns. From the kind of fountain to choose to the overall setup or theme, you'll get all the help you need.
We are Your Best Chocolate Catering Option
Our personalized service is one of the reasons why most clients from Long Beach and other cities in California choose us instead of our competitors. They know that we can provide the kind of service that they are looking for in a chocolate and candy station catering service provider.
Aside from the premium chocolates that we use, we also guarantee the freshness of our dipping items. They are sourced from reliable suppliers, so your guests are assured of the quality of all the items that we include in the menu. We also have professionally trained crews who are courteous and professional in dealing with your guests. When you hire us, we will take care of the table arrangement, chocolate fountain setup, and overall presentation.
What's Unique About Our Chocolate Catering Services?
At Chocolate Fountain Pros, we offer customized packages that suit the needs and budget of our clients. We want them to have a party or event that is unique but fun and exciting. Our long list of satisfied clients from Long Beach, CA is a proof that we're the best people to hire for chocolate catering.
Here are some of the great things that you'll get when you decide to hire our chocolate catering services:
Premium chocolates. We only use Melano chocolates since they taste great and perfect for chocolate fountains. We have white, dark, and milk chocolate flavors. You also have the option to choose the specific color of your chocolates. We can serve them in green, red, orange, blue, and other colors that will match your event's theme.
Great selection of dipping items. The kinds of dipping items that we can offer are only limited by your imagination. Among the common dipping items that we serve are strawberries, bananas, pineapple, cream puffs, cookies, and marshmallows.
Chocolate fountains. Our chocolate fountains are available in different sizes, so we can easily provide the right size and number for your event. You can opt for our 27" or 44" chocolate fountains, depending on the number of your guests and type of event.
Custom-made chocolate bars. One of our best service offerings is our interactive on-site chocolate making. With this service, you can allow your guests to create their own chocolate bars and add their chosen ingredients. Some of our popular add-ons include peanut butter drops, skittles, chocolate chips, butterscotch, marshmallows, Kit Kat, caramel, Reese's, and cookie dough.
If you have more questions about our chocolate catering services, you may refer to our FAQ page, fill out our inquiry form, or call us at (310) 344-1721.
We Provide Services to the Following Cities, Towns and Surrounding Regions of CA: