Chocolate Fountain Rentals in Los Angeles, CA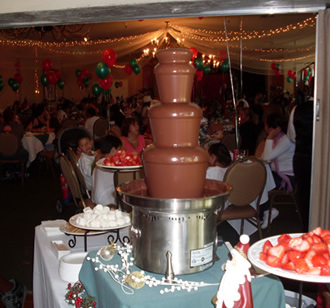 At Chocolate Fountain Pros, we can make your occasion, party, or corporate event become more special and spectacular. We make this possible by offering customized packages for our chocolate fountain rentals. You can choose your chocolates, dips, and the overall theme or setup of the chocolate fountains. These wonderful options make us the top-rated chocolate fountain hire in Los Angeles, Long Beach, Newport Beach, and surrounding areas. 
We have been in this business for years already, so we know the things that will make your party or event more exciting and fun. If you want the best chocolate fountain hire in the Los Angeles area, please call Chocolate Fountain Pros at (310) 344-1721.  
Custom Packages, Personalized Services
We are always the top choice of many customers even if there are other chocolate fountain rental companies in the Greater Los Angeles area. Most clients trust us because of our custom packages and highly personalized services. With us, they can choose the best package that will suit their needs and budget. We even have an online form where they can compute the estimated cost of getting our chocolate fountains.
Our offered packages will be customized according to the type of event or occasion. We have the basic package where you can choose from the different chocolate fountains in our inventory. Our units include 27", 34", and 44" chocolate fountains, so choosing the right fountain for your event will not be a problem. If you have a large party or event, we highly recommend our premium chocolate fountain package. In this package, you'll get five different dipping items that will surely satisfy your guests' palate. You can also request for additional items or special setup by telling us in advance.
The best thing about hiring us is that we provide everything you need. From the ingredients, dips, and decorations, we will provide them for you. We also do the setup, operation, and cleanup, so you won't have to worry about anything. We can also arrange custom chocolate bars as gifts for your guests to take home!
Awesome Chocolate Fountains
Our main goal here at Chocolate Fountain Pros is to provide clients with awesome chocolate fountain setups. We can assure clients that they will get the best chocolate fountains complete with their chosen dips and ingredients. We only use Melano, a premium chocolate that doesn't require oil and tastes great. Our flavors include dark, milk, and white chocolates.
We can also create a specific theme for your chocolate fountains. We can turn your chocolates into other exciting colors, such as blue, green, yellow, orange, pink, white, red, and green. We also have a wide variety of dipping items that will match with your theme or event. These great options make us the best chocolate fountain hire in the state. 
The Perfect Chocolate Fountain for Your Event
Chocolate fountains are perfect for almost all types of events or occasions. We highly recommend them for:
wedding receptions
bachelor/bachelorette parties
wedding rehearsals
birthday parties
anniversaries
baby showers
holiday parties
graduation
charitable events
fairs and festivals
trade shows
corporate events
Chocolate Fountain Pros is the best chocolate fountain hire if you're in Los Angeles, CA. Hire us now and let us help you create a unique chocolate fountain setup, customized chocolate bars or a candy station for your event. 
We Provide Services to the Following Cities, Towns and Surrounding Regions of CA: