Custom Chocolate Bars Newport Beach, CA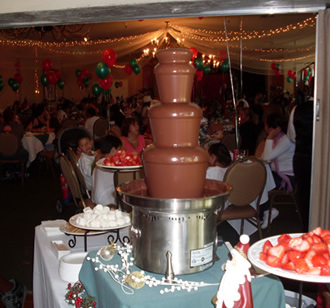 Make your event or party more exciting and fun by adding custom-made chocolate bars to your menu. We are 100 percent sure that your friends, relatives, and guests will have a unique party experience once they have our premium chocolates.
Our custom-made chocolate bars are best for Mitzvahs, Quinceañeras, Sweet 16 parties, and birthday parties. They are also great for other types of occasions, such as wedding rehearsals, fund-raising events, anniversaries, baby showers, and corporate events.
Call us today and we will discuss some great options and the appropriate setup for your party or event. We have served numerous satisfied clients in Newport Beach, Long Beach, Los Angeles, and other areas in California, so you are assured that we are providing excellent service and premium quality chocolates.
Pre-made or Custom-made Chocolate Bars
At Chocolate Fountain Pros, we provide Newport Beach clients with two great options. They can opt for the pre-made chocolate bars with their preferred flavors and custom-designed wrappers. And for those who want a more exciting party, we highly recommend our interactive chocolate bar making. Your guests can make their own candy bars with their chosen ingredients or flavors. Once they are done with the process, we can wrap them in a custom-designed wrapper or in cellophane. Our interactive chocolate making is best for birthday parties.  
Personalized Chocolate Bar Wrappers
We can turn your chocolate bars into a creative party favor, giveaway, or unique promotional gift with our custom-designed chocolate bar wrappers. Our wrappers are creatively designed to suit your party theme or event. We can add your picture, personal message, or even the name of each guests to make them more personalized. There are other great things that you can do with our custom-made wrappers. You can use them as table numbers or for your guests designated sitting area at the party. 
Please also browse our site to see some of the customized wrappers that we have designed for past clients in Newport Beach, CA. We have creative people who can come up with unique designs based on your ideas and suggestions.
Exciting Flavors for Your Chocolate Bars
At Chocolate Fountain Pros, we offer exciting flavors for your custom-made chocolate bars. We will ensure that all your guests will be able to get their favorite flavors or try new ones with our great selection of ingredients. From nuts and candies to chocolate chips and cookies, we have them on our list. You can also request for your desired flavor combination that will match with the type of event or occasion.   
Meanwhile, your chocolate bars can have any of these:
Peanut chocolate candy
Chocolate candy
Peanut butter drops
Mini marshmallows
Sour patch kids
Butterscotch
Caramel pieces
Toffee
Strawberry gushers
Nerds
Jellybeans
White chocolate chips
Dark chocolate chips
Junior mints
Crushed peppermint candy
Cookie dough
Candy corn
Skittles
Gummi Bears
Oreo
Kit Kat
Reese's
If you have more questions about how you can avail our services and the rates that we charge for each chocolate bar or chocolate fountain hire, please dial our (310) 344-1721 hotline or fill out our contact us form. Rest assured that we will respond to your queries as soon as possible.
We Provide Services to the Following Cities, Towns and Surrounding Regions of CA: